First, it's gotta snow on the robin's tail
A couple of days ago, I woke up to a good inch of heavy, wet snow — again. Despite the calendar — April — winter refuses to leave the state.
To be honest, this isn't unusual for northern Wisconsin. Still, we gripe about it. And when I do, nine times out of ten the response is: "They always say snow will fall on a robin's tail three times before spring weather actually arrives."
Robins, do you hear that!?
So despite the slush, wind and grey sky, I went through the usual morning routine: rouse the dogs, make sure the cows have enough hay, grab a mug of tea, and rev up the old Impala.
My farm, Bull Brook Keep, is four miles from Farm Table, an eight-minute drive that takes me from open pastures to Amery's downtown business district. As someone who grew up in New York City, it still strikes me that I can go from corn fields and grazing sheep to a main street lined with vintage shops, leather shop, salons, financial services, art galleries, eateries and bars, and Ellie's. Ah, yes, Ellie's, one of the best, old-fashioned ice cream shops in the area. (Ask the server to whip up an old-time cherry phosphate.)  
It was Tuesday, a usually quiet day at the restaurant. Not so, this week. I opened the door to loud bangs, buzzes, and clatter.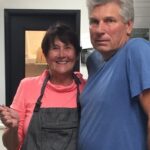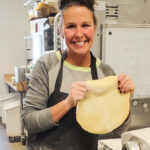 One of our long-time volunteers, Don Knutson, was into a second day of deep cleaning the kitchen. As I sat in my little back office, I caught the drone of an electric floor scrubber and a whine of a wet/dry vacuum. Earlier in the day, it was the scratch-and-sloosh of scrubbing brushes on tile, as well as the slap of a mop – elbow grease at work. Don ran a cleaning firm before he retired, and now he regularly gifts us his time and expertise. It's hard to say "thank you" enough for his contribution.
The same can be said of his wife Paula, as well as of Jess Flanery, another faithful volunteer. They donate their time and talents almost every Wednesday morning to help Marlee, our baker, produce pot pies, pizza crusts, sweet pies, and pastries.  
Many others contribute their time and resources throughout the year in the herb gardens, on our board, and by teaching classes every season of the year. They, along with our staff, donors, farmers, and all our guests, form strong community.  Thank you. Working together is what it takes to build a better food system, to cultivate local food culture spring, summer, fall, and winter – for as long as it lasts.
Snowy rain slants against the window as I tap this out. I sure hope the robins are keeping score.
Sylvia Burgos Toftness, Interim Executive Director
PS: I hope to see you at Farm Table soon.